Watch our Videos
Daily Fishing Reports
Sat - Jun 28 2014
Which trip is right for me when I vacation in Orange Beach or Gulf Shores
That is a pretty good question that is often asked to me when talking to customers about a vacation fishing trip. The most popular trip is the the 6 hour that incorporates some bottom fishing and some trolling on the way out to the fishing grounds and back in. We see kids if all ages […]
---
Sun - Jun 08 2014
Need more information about deep sea fishing trips?
As everyone knows social media has taken over all forms of business with regards to advertising. We have tried to keep up with this movement and have begun using Facebook for our daily fishing reports. We also make attempts to update our Twitter and Instagram pages as well, but I must admit I'm a little […]
---
Fri - May 23 2014
So why are some fisheries closed this year that were open last year?
Well this about the best description of what we are up against in the fishing industry right now. None of this precludes us from going fishing and having fun, it jay keeps us from harvesting certain species in normally open times if the year. 2014 Gulf of Mexico Recreational Fishing Closures and Accountability Measures Why […]
---
Fri - May 23 2014
Red snapper season announced for 2014 (part 2)
Late last week, the National Marine Fisheries Service announced the 2014 federal red snapper season would open June 1st and close at midnight June 9th. This closure is very unfortunate for some anglers but it is good for other people who may not have been able book a charter due to the snapper season being […]
---
Fri - May 02 2014
Triggerfish season closed on May 1, 2014 for the rest of the year
Well unfortunately, triggerfish season will close for the remainder of the year. I really think that was going to happen this year, however with the recent lawsuit against the National Marine Fisheries Service mandating that we used the new MRIP landings survey as the best available science, I guess it we will be applied to […]
---
Sat - Apr 19 2014
Red snapper fishing 2014 season
Well as some of you know the current Red Snapper issue has been coming for a long time as many of us have talked about it at length. I am very humbled by all of you guys that have told me that you are coming fishing regardless of what we can keep, we just want […]
---
Fri - Apr 18 2014
Fishing Report For January 20th, 2014
The latest report for the charterboat intimidator is that we are off of drydocking back in the water. Well we have completed the underwater and exterior work on the boat. We're getting ready to start tackling some of the stuff on the inside of the boat such as updating the TV stereo and entertainment center […]
---
Mon - Mar 24 2014
Orange Beach, Alabama kicks off it's spring break fishing season
The 2014 fishing season is finally here. Our season usually always begins with the spring break crowd as they dig their way out of the snow to find their way to the beautiful beaches to enjoy some milder temperatures and of course some great fishing. What has been the coldest longest winter I have seen […]
---
Thu - Jan 23 2014
New info on the age of Great White Sharks
This is some pretty cool new info from NOAA about the age of Great White Sharks. I would have never thought that they would have lived that long. I don't think that I have ever seen but just one in my career we were south of Orange Beach about 100 miles when it swam under the boat while we on a two-day trip catching tunas. ~ by Capt Johnny Greene
---
Fri - Jan 03 2014
News and updates for January 2014
Well it's that time of year again where we have to start doing the major work to the boat. Now is when we stop fishing to take the boat out of the water and clean and repair the bottom. This year we will be going over to Barbers Marina which is very nice sprawling facility […]
---
The Deep Sea Fish We Catch
Day Fishing Trips

Snapper
Triggerfish
Amberjack
Grouper
Cobia

Overnight Fishing Trips

Dolphin
Blue Marlin
White Marlin
Sailfish
Yellow Fin Tuna
Wahoo
Snapper
There are only a few types of snapper that are found in the northern gulf. The American Red Snapper is the most popular of these and can grow in excess of 20 lbs. The vermilion or "bee-liner" is a smaller snapper that is commonly caught as well. The "bee-liner" is a very tasty deep sea fish and is generally caught in deeper water.
Triggerfish
This is one of the best tasting deep sea fish in the entire gulf! Although it is not much to look at, it has very white flaky meat that can be prepared any number of ways. Just ask us when you catch one and we will be glad to show you why it is called a triggerfish.
Amberjack
Pound for pound, the amberjack is one of the hardest fighting deep sea fish that a sportfisherman can find swimming anywhere in the world. These big bruisers must be 28" to keep and can be commonly caught on live and artificial baits.
Grouper
It is the saltwater equivalent to the large mouth bass. The late fall through early spring is best time to catch them when they move from the deeper water.
Cobia
Commonly mistaken for a shark, it will on occasion swim right up to the boat. It is a large deep water fish that can be taken by a sportfisherman on a drift line. They will start their spawning run from the east to west pattern in late March. They will move right down the beach and can be taken during this migration by sight fishing.
Dolphin
The dolphin is one of the world's premiere offshore sport fish, found worldwide in tropical waters. When hooked, these colorful deep sea fish will leap many times before settling down to slug it out, turning their flat-sided bodies against you.
Blue Marlin
Of all the world's marine game fish, none is more celebrated or generates more excitement than the blue marlin. The fish of Hemingway's Old Man and The Sea fights with a strength that is only exceeded by that of the giant tuna, and often makes spectacular leaps when first hooked.
White Marlin
The White Marlin is the little brother to the bigger Blue Marlin but it will crash trolled baits, and when hooked, often leaps successively by "gray-hounding." Due to this penchant for wasting energy by leaping, a characteristic of all billfish, the white marlin seldom initiates a bulldogging battle with a sportfisherman.
Sailfish
Sailfish are memorable opponents. With a flair for the dramatic, they'll make a sizzling run and then jump their heart out. Many a sportfisherman reveres the sailfish as the greatest light tackle quarry. These spectacular deep water fish are found worldwide in tropical and subtropical waters. Atlantic sailfish grow larger in the eastern Atlantic than they do along the Americas, where they average around 30 pounds. Pacific sailfish can top 200 pounds, but average closer to 100.
Yellow Fin Tuna
The Yellow fin is perhaps the most colorful of all the tuna. Found globally in tropical and subtropical seas, it's one of the world's most popular deep sea fish. Even small Yellow fin tax light tackle to the limits, and the brute strength of larger fish requires heavy stand-up gear.
Wahoo
Wahoo are found in the Gulf of Mexico waters and are considered to be one of the fastest and best tasting of all the game fish. These long, torpedo-shaped deep sea fish can grow to weights exceeding 100 pounds and can rip off line at speeds exceeding 60 miles per hour, sometimes taking to the air in the process. We fish for Wahoo even on a day trip and really enjoy catching them as does anyone hence the name WAHOO!
Fish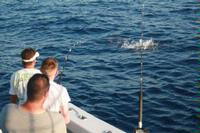 Gulf of Mexico
Fishing Conditions, Updates
And Live Reports
Jul 1, 2014

The Deep Sea Fishing Report for the charter boat Intimidator.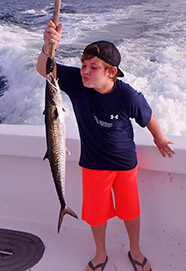 The deep sea fishing has been really good in gulf shores this year. We have had a good variety of things to catch on the 6 hour charters such as vermillion snapper, white snapper, red snapper and triggerfish. But two of my personal favorite fish to catch are the king mackerel and black snapper.
The king mackerel were a little late showing up this year as I would imagine it had a lot to do with the significant amounts of rain that we've battled this spring. Kings are big fish that have to be in excess of 24" to keep and can grow upwards of 50 pounds. We catch these fish while trolling on the way out to the fishing grounds but, one of the funniest ways has to be on the drift lines… which are lines that have a small wire leader and are cast out on the surface while you are bottom fishing. As they drift down they will draw the attention of the mackerel and hopefully a bite. Once hooked these fish will pull a lot of line and make good strong drag screaming runs.
We have some openings left for July so if you're thinking about a trip bring your family now and let them share the experience with you while the seas are calm and the fish are biting!
Please check us out on our Google+ page and as always follow us on Facebook and Twitter.
251 747 – 2872

Fishing Report by
Capt Johnny Greene
Charter Boat Intimidator
Jun 7, 2013
The Deep Sea Fishing Report for the charter boat Intimidator
. Over the past couple of weeks stationing on the Intimidator has been very good. Red snapper season 2013 has been good and we look forward to the last couple of weeks of the season which will be on Friday, June 28.
Gag grouper will open July 1 and will make for lots of fun on the full day trips as we get to participate in a sure enough grouper fishery. Available fish to be caught on a full-day charter are gag grouper, scamp, red grouper, yellow edge grouper and tilefish. You can also keep Vermillion snapper, white snapper and king mackerel.
In August, amberjack will re-open a long with the afore mentioned species above and you will get to do some of the most premier fishing that we have to offer.
July through early December is absolutely my most favorite time of year to fish offshore as the yellowfin and blackfin tuna like a strong showing. This is also a great time of year to catch a dolphin or a marlin as well. During the late summer fall to the early winter time we will average about two overnight trips a week. If you have ever considered a overnight trip this is your opportunity to have a memorable action-packed offshore adventure.
I have been updating almost daily our Facebook page with 20 to 30 photographs per trip as opposed to a full-blown written fishing report. It seems people enjoy the photographs and I struggle for words at different times.
A couple of times a week I also updated my blog with pertinent fishing information and random fishing reports, as the weather will allow. Please be sure to follow along, and
please offer me some feedback on the photographs versus fishing reports or any other suggestions that you may have
.
Please see our new
Google+ page
and as always follow us on
Facebook
and
Twitter
.
251 747 – 2872
Fishing Report by
Capt Johnny Greene
Charter Boat Intimidator
May 19, 2013
The Deep Sea Fishing Report for the charter boat Intimidator. Fishing over the last month has been really good from big yellowfin tuna to small lure tickling mackerels.

Four hour trolling trips: We have not run any four hours this year due to the absence of any king or spanish mackerel to be caught, with any consistency. However, over the last week the mackerels have showed up and those boats staying near shore have done quite well.

Six-hour half day fishing trips: These trips have consistently been the most popular trip that we run for families looking for a good time. We have had some very good catches this year and fully expect that trend to continue with snapper season starting in just a few weeks.

On the full day fishing charters we have had good luck with some nice triggerfish, Vermillion snapper, and Amber jacks. These trips last week, have really allowed us to showcase our ability to produce high-quality trips for you.

Overnight deep sea fishing charters: As many of you may know, we have always ran a lot of overnight deep sea fishing charters. As proof of what we have done, please make sure to read our fishing reports, you should be quite amazed. From giant yellowfin tuna to some of the prettiest scamp fishing we have had in a long time, these trips continue to get better and better.

If you were looking for a new charter fishing vessel to help entertain your family or group of anglers please consider us as we have been around for over 20 years and will be glad to share our friendly and knowledgeable expertise with you. Make sure to follow us on twitter and Facebook as we take pictures and update daily.

Please see our new Google+ page and as always follow us on Facebook and Twitter.
251 747 – 2872

Fishing Report by
Capt Johnny Greene
Charter Boat Intimidator
May 7, 2013
Orange Beach / Gulf Shores Intimidator deep sea fishing charter boat report - Over the past month we have enjoyed some of the finest offshore overnight tuna fishing trips we have had in a long time.

The offshore deep sea fishing - started off really good with fish in close around the Ram Powell. Then they migrated on offshore with the recent cool weather that we have had. The blue water has been in really close too, and we have seen some scattered grass and some flying fish. It has truly been very good for yellowfin and blackfin tuna. We have caught a couple of wahoo as well as a few Dolphin and mahi-mahi.

Bottom deep sea fishing trips - we have ran a good many six hour charters this spring and have done very well with triggerfish, Vermillion snapper and white snapper. On the longer overnight trips we have done surprisingly well with big scamps and red groupers.

Nearshore trolling trips - nearshore trolling has not been very good this spring at all. I would render a guess that it is only due to all of the late-season cold fronts that have roared through and the fact that the water temperature has remained fairly low for this time of year. However, this will quickly improve as we have had a predominant Southeast wind flow over the last couple of weeks.

Please see our new Google+ page and as always follow us on Facebook and Twitter.
251 747 – 2872

Fishing Report by
Capt Johnny Greene
Charter Boat Intimidator
The theme lately on the boat has been more focused on the small families here in town on vacations or locals, just wanting to get back on the water that they missed so much of this past summer. In years past our attention has always been in the offshore area and the longer trips, but I must admit that these trips are a lot of fun. It is nice to finally meet all of the families, of the people who have been chartering us for years, while on the boat fishing. It is a great way to spend a morning or afternoon with the family. If you would like to introduce your kids to the exciting world of deep sea fishing then come on down and let's go fishing.
This is great news for all the local business and the industry as a whole. We are looking forward to seeing you guys down here soon. The beaches are clean and the booms are gone from the Back Bay and inland water ways. Things are getting back to normal in swift fashion!
Although, Alabama state water are still closed to harvest Florida waters are open to keep what you catch within the parameters of the law. The fishing is great, the weather has been slick calm and catch has been pretty good too! With 4 hour trips starting at $800.00 for up to 10 people we have a trip in your price range. Our state waters should reopen within days and the federal waters should not be too much longer, we hope. There is a lot of talk about a fall Red Snapper season but there is not a definite answer as of yet. Once more info is made available I will pass it along to you.
Thanks
Johnny Greene
251-747-2872