Watch our Videos
Daily Fishing Reports
Mon - May 20 2013
New grey triggerfish regulations to go into effect
After the recent stock assessment for great triggerfish national Marine fisheries service has announced new regulations that will go in place for the 2013 fishing season. Gray triggerfish will close from June 1 to July 31 and reopen on August 1, 2013 with a 2 fish bag limit and a 14 inch size limit. After […]
---
Wed - May 01 2013
Orange Beach offshore overnight tuna fishing trip – Marty and Tim ride again; April 28 – 29, 2013
On this offshore fishing trip we had a very successful plumbing company from Atlanta Georgia on the boat. We departed orange Beach Marina at 6 AM and headed south into the Gulf of Mexico to catch some fresh live bait. Shortly thereafter we headed off shore to our first bottom fishing locations. The first Stop […]
---
Sun - Apr 28 2013
Half day morning charter with Lance and family
Orange Beach, Al. – On this Saturday morning we had a two dads and two kids in the boat for a morning 6 hour charter. They were staying over at the Perdido Beach Resort and they boarded the boat at 5:30 am. We then headed offshore just south of Gulf Shores to some artificial reefs. […]
---
Sat - Apr 27 2013
Afternoon half day fishing trip for Jerry, Al and the guys – Tealwood version 2.0
Orange Beach, Alabama – On this afternoon six-hour trip we had all of my neighborhood friends onboard for fishing trip. We departed orange Beach Marina at 12:45 and headed back out her second trip of the day. We rode off shore and hour and a half and started fishing. We talk to bunch ofbig old […]
---
Sat - Apr 27 2013
Alabama offshore overnight trip on April 25-26, 2013
Orange Beach, Al. – On this offshore overnight trip we had some of my good friends and customers from the Baton Rouge/Lafayette Louisiana area. Most of them had fished the overnight charter with us before but a handful of them had never been to the Alabama Gulf Coast. We departed Thursday morning at 6 AM […]
---
Mon - Apr 15 2013
4 hour Family Fishing trip on Friday April 12 in Orange Beach
After all the bad weather blew out last night, we headed offshore with David and his wife and kids on an afternoon 4 hour charter. He was just wanting to introduce his family to the world of deep-sea fishing and we did that in fine fashion. We caught some spanish mackerel and some big ones of that. The biggest spanish of the day was just over 6 pounds and put up a heck of a fight on light tackle.
---
Tue - Apr 09 2013
Orange Beach deep-sea fishing trip with the Castillo family April 6, 2013
On this half day six hour charter fishing trip, we had to Castillo family who is in town from Mobile, Alabama. As it worked out there was three daughters on board for this trip. It just so happened to be Reagan's birthday who is the youngest child who I believe had more fun than any six people I know! We headed offshore some 15 miles per for spot where the fishing was a little slow. Then moved on offshore a little further to the east and fountain triggers, Vermilion snapper, white snapper and one big old hungry shark.
---
Wed - Apr 03 2013
Afternoon 6 hour charter with Scott and his family on April 2, 2013
Orange Beach/Gulf Shores, Alabama – afternoon six hour fishing charter April 2, 2013 On this fishing trip we had Scott Rolfs and his three sons onboard who were vacationing in town for spring break. We departed Orange Beach Marina at 12:30 PM and ran offshore just over an hour to get started bottom fishing. Scott […]
---
Tue - Apr 02 2013
Orange Beach morning six hour charter with Jeremy on April 2, 2013
Orange Beach / Gulf Shores, Al On this morning spring break trip we had Jeremy Repal on the boat for a half day charter trip. We had 5 dads and 6 kids that were experienced fishermen and they had a great time. We caught red Snapper, amberjack, almaco jacks, vermillion snapper, white snapper and hooked […]
---
Sat - Mar 30 2013
Friday morning fishing trip with the Voster family, spring break 2013
We left out before the sunrise this morning with Mr. Voster's family and friends that were staying in Gulf Shores for Spring break on there six hour fishing trip. We had the big green egg grill lit cooking breakfast as we watched a beautiful sunrise on the Gulf of Mexico. Once we reached the fishing […]
---
Intimidator Gulf Fishing Charter Crew
Meet your crew

The crew of the Intimidator is handpicked and often time's young men who are brought up through the ranks.  This is not an easy job as there is a lot more to it than you would ever imagine from heavy mechanical repairs, to grinding fiberglass,  painting the boat and of course, knowing all the tricks of the trade to make fish bite and keep customers coming back. Working in the cockpit of a charter boat from Orange Beach, Alabama can be one of the most challenging yet rewarding careers a person could ever want to have. 

The crew on my boat is what makes the trip pleasant and enjoyable for you. While I am upstairs in the pilot house keeping the boat on top of the fish, your mates are making sure that your catching fish and having fun. One thing is for certain, without customers like you going fishing with us, we would not be able to pursue our passion for deep-sea fishing.
Drew Phillips

Capt. Drew Phillips has been with me for several years now and is a fine young man that has a MBA from the University of Alabama.  Drew comes from fine family in Tuscaloosa, Alabama and truly understands family values and hard work.  He has run many fishing trips for me as captain and will continue to do so.  It would not at all surprise me to see him move up into a full-time position in the wheelhouse at some point down the road.  While Drew is not married yet and doesn't have any kids of his own, I can assure you that he is patient and friendly and really likes to see the kids catch the fish. Drew has fished all over the world from the Azores to the Canary Islands but, will tell you hands-down the best fishing is along the Alabama Gulf Coast.
Being in the charter fishing business for over 20 years, I have only had a handful of mates and this is something I'm very proud of.  Every full-time mate that I have ever had went on to get their captain's license while employed by me and with the exception of one is now making a living running a boat.
About The Captain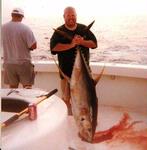 Gulf of Mexico
Fishing Conditions, Updates
And Live Reports
May 19, 2013
The deep-sea fishing report for the charter boat Intimidator. Fishing over the last month has been really good from big yellowfin tuna to small lure tickling mackerels.

Four hour trolling trips: We have not run any four hours this year due to the absence of any king or spanish mackerel to be caught, with any consistency. However, over the last week the mackerels have showed up and those boats staying near shore have done quite well.

Six-hour half day trips: These trips have consistently been the most popular trip that we run for families looking for a good time. We have had some very good catches this year and fully expect that trend to continue with snapper season starting in just a few weeks.

On the full day charters we have had good luck with some nice triggerfish, Vermillion snapper, and Amber jacks. These trips last week, have really allowed us to showcase our ability to produce high-quality trips for you.

Overnight fishing charters: As many of you may know we have always ran a lot of overnight fishing charters. As proof of what we have done, please make sure to read our fishing reports, you should be quite amazed. From giant yellowfin tuna to some of the prettiest scamp fishing we have had in a long time, these trips continue to get better and better.

If you were looking for a new charter fishing vessel to help entertain your family or group of anglers please consider us as we have been around for over 20 years and will be glad to share our friendly and knowledgeable expertise with you. Make sure to follow us on twitter and Facebook as we take pictures and update daily.

Please see our new Google+ page and as always follow us on Facebook and Twitter.
251 747 – 2872

Fishing Report by
Capt Johnny Greene
Charter Boat Intimidator
May 7, 2013
Orange Beach / Gulf Shores Intimidator deep sea charter boat fishing report - Over the past month we have enjoyed some of the finest offshore overnight tuna fishing trips we have had in a long time.

The offshore fishing - started off really good with fish in close around the Ram Powell. Then they migrated on offshore with the recent cool weather that we have had. The blue water has been in really close too, and we have seen some scattered grass and some flying fish. It has truly been very good for yellowfin and blackfin tuna. We have caught a couple of wahoo as well as a few Dolphin and mahi-mahi.

Bottom fishing trips - we have ran a good many six hour charters this spring and have done very well with triggerfish, Vermillion snapper and white snapper. On the longer overnight trips we have done surprisingly well with big scamps and red groupers.

Nearshore trolling trips - nearshore trolling has not been very good this spring at all. I would render a guess that it is only due to all of the late-season cold fronts that have roared through and the fact that the water temperature has remained fairly low for this time of year. However, this will quickly improve as we have had a predominant Southeast wind flow over the last couple of weeks.

Please see our new Google+ page and as always follow us on Facebook and Twitter.
251 747 – 2872

Fishing Report by
Capt Johnny Greene
Charter Boat Intimidator
April 10, 2013
Orange Beach / Gulf Shores Intimidator deep sea charter fishing boat report - Over the past several weeks we have enjoyed a very successful Spring Break as many people have visited the Alabama Gulf Coast on vacation. We appreciate those of you who took the time to enjoy your fishing trip with us and hope that those of you considering an offshore fishing trip will give us a shot.

Four hour trips - these trips are starting to become more and more productive every day as the water temperature and air warms up. As of this past Sunday the Spanish Mackerel have showed up and have become fairly consistent as we are Cobia fishing. This is a good time of year to book and economical trip and have the possibility of catching a big Cobia which has to be 33 inches overall length to keep.

Six hour trips - as always these are our most popular trips throughout the course of the entire fishing year. Over the past several weeks we have had tremendous success with Vermilion Snapper, White Snapper and a few Triggerfish. However, being able to add a little bit of Spanish Mackerel trolling on top of the really good bottom fishing will make for an even more enjoyable trip this time of year.

Full day trips - as always these trips are highly successful and you should expect to catch some big fish like Amberjack, Scamp, Red Grouper, Vermilion Snapper, Triggerfish and even possibly a big Wahoo or King Mackerel on a high-speed troller as we go in and out to the fishing grounds.

Overnight trips - are always the most productive trip that we offer and are just now beginning to get really good offshore. The Wahoo and Black Fin Tuna bite is very consistent and the Yellow Fin Tunas are starting to show up in good numbers. If you mix in some bottom fishing with some of the afore mentioned reef fish species you will quickly realize the level of success available to you on an Overnight Fishing Trip.

As always we are available for Charter most every day with the exception of a few sacred holidays. If you're considering a deep-sea fishing trip and don't know where to begin, give me a call, we book hundreds of fishing trips a year and we can take all of the uncertainties from your mind regarding booking a deep-sea fishing trip. Without you guys we don't get to go fishing.

Please see our new Google+ page and as always follow us on Facebook and Twitter.
251 747 – 2872

Fishing Report by
Capt Johnny Greene
Charter Boat Intimidator
Mar 8, 2013
Orange Beach / Gulf Shores Intimidator deep sea charter fishing boat report
- Spring break fishing season is finally upon us we are ready to roll for some great fishing this time of year.
The four hour trolling trips for Spanish mackerel should start to appear in the next couple of days. It will get better as the water warms up and the bait continues to move it.
Six hour trips continue to be the most popular fishing trip this time of year. It allows us time to troll offshore and try to pick up a few Spanish or king mackerel then, allows us ample time to bottom fish for species such as triggerfish, Vermilion, white Snapper as well as a host of other species.
The longer day trips are for the fishermen that are serious about catching lots of big fish. This time of year you can be rewarded with some big Amberjacks, as well as the afore mentioned bottom fish and Mackerel species.
It will not be long until the overnight fishing charters begin to pick up and start producing large trophy size yellowfin tuna, blackfin tuna and some rather large Wahoos.
Please Follow us on
Facebook
and
Twitter
.
251 747 – 2872
Fishing Report by
Capt Johnny Greene
Charter Boat Intimidator
The theme lately on the boat has been more focused on the small families here in town on vacations or locals, just wanting to get back on the water that they missed so much of this past summer. In years past our attention has always been in the offshore area and the longer trips, but I must admit that these trips are a lot of fun. It is nice to finally meet all of the families, of the people who have been chartering us for years, while on the boat fishing. It is a great way to spend a morning or afternoon with the family. If you would like to introduce your kids to the exciting world of deep sea fishing then come on down and let's go fishing.
This is great news for all the local business and the industry as a whole. We are looking forward to seeing you guys down here soon. The beaches are clean and the booms are gone from the Back Bay and inland water ways. Things are getting back to normal in swift fashion!
Although, Alabama state water are still closed to harvest Florida waters are open to keep what you catch within the parameters of the law. The fishing is great, the weather has been slick calm and catch has been pretty good too! With 4 hour trips starting at $800.00 for up to 10 people we have a trip in your price range. Our state waters should reopen within days and the federal waters should not be too much longer, we hope. There is a lot of talk about a fall Red Snapper season but there is not a definite answer as of yet. Once more info is made available I will pass it along to you.
Thanks
Johnny Greene
251-747-2872